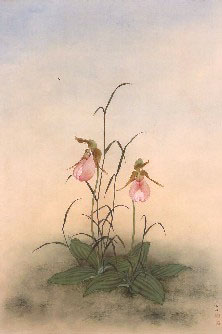 CHINA 2000 FINE ART (5 East 57th Street in Manhattan) takes great pleasure in presenting The Blossoming Bough, an exhibition of nineteen recent paintings by the Chinese woman artist, An Ho. We are delighted that, just when spring is in full flower, we can hold our third exhibition of paintings by this outstanding artist who studied with Master Pu Ru (1896-1963) for seventeen years.
The flower paintings in The Blossoming Bough are, for the most part, endangered species. They are rarely seen specimens of nature's infinite creativity. The approach An Ho takes towards flower painting gives great value to precision and orderly arrangement. Her brushwork reinvents nature with a sense of perfection ideally achieved, a model initially advanced in the Song dynasty. These translucent visions are derived closely from nature, but set forth with such absolute assurance as to create their own, separate reality. Hers is an enchanting performance. Details are drawn with near-miraculous refinement and a sense of order and clarity prevails in every composition. Minute and patient observation lies behind the visual truthfulness of individual elements—the artist understands how the flowers and grasses grow and bend and blossom and fade.
An Ho was born in 1927 in Beijing, China. Her father was chief editor for several newspapers, and her mother, a painter of flowers. Both parents were senior members of Sun Yat-sen's revolutionary movement. In 1949, An Ho's father became Vice-Governor of Manchuria where he remained until his death in 1970. In 1944, in Nanjing, An Ho was introduced to Pu Ru (1896-1963), who took her as his student and protégée. She studied with him for seventeen years, initially in China and then in Taiwan, guided by his belief that in the practice of Chinese painting equal emphasis should be placed on the artist's mental attitude and the quality of the work of art. His teaching method cultivated personal character as the basis for advancing in the skillful use of brush and ink. An Ho began by reading the Chinese classics, practicing calligraphy, and imitating the most important paintings of the Tang and Song dynasties. She researched painting techniques that had been forgotten over the centuries, revitalized this art form that had always been considered a pinnacle of Chinese art, and became the sole living practitioner of these ancient artistic styles. An Ho moved with her family to Atlanta, Georgia, in 1977.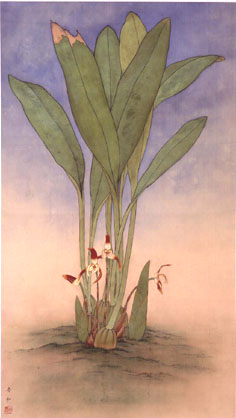 An Ho Chronology
1927 Born in Beijing. 1944 Becomes a student of Pu Ru (1896-1963) with whom she studies for 17 years. Pu Ru gives her the name Wei-ying meaning "Glow of Jade." Second Asian Olympic Games Art Exhibition, Philippines—Gold Medal. Taiwan Department of Education Award of Merit. 1955 Taiwan National Historical Museum—purchase for permanent collection. Painting chosen for International Society of Chinese Classical Studies traveling exhibition to Germany, Italy, and France. 1957 Fourth Annual Exhibition Taiwan Department of Education—Best-In-Show. Painting selected for Exhibition at Taiwan Museum of Chinese Arts. 1958 San Paulo Museum of Art, Brazil—purchase for permanent collection. Painting selected for United States Information Agency Exhibition of Paintings by Living Chinese Masters. 1962 Elected to membership in Chinese Art Association. 1965 Fifth annual Taiwan Art Exhibition honoring Sun Yat-sen's 100th birthday— Best-In-Show. 1968 Painting selected for Modern Women Artists Exhibition sponsored by International Pacific Women's Convention. 1971 Painting selected for Modern Chinese Women Cultural Exhibition sponsored by Taiwan National Historic Museum. Painting selected for 100 Painters and Calligraphers Exhibition sponsored by Chinese Art Association. One-person show at Sun Yat-sen Memorial Hall. 1972 Painting selected for China Week Exhibition at University of California at Los Angeles. Painting selected by Taiwan national Historical Museum for grand opening of Chiang Kai-shek International Airport. Painting selected for Chinese-American Art Exhibition in Taipei. 1977 One-person show at St. John's University, Queens, New York. One-person show at Art Institute of New York. 1983 Elected to membership in Chinese Cultural Association of the United States. 1989 High Museum of Art, Atlanta, Georgia—painting demonstration and Exhibition coinciding with Masters of the Ming and Qing Dynasties Exhibition. 1990 Elected as Research Associate, Xian Museum of Art, China. 1994 One-person show at Taiwan National Historical Museum. Painting selected for China-Taiwan Cultural Exchange Exhibition. 1996 The Master and the Protegee: Paintings by Pu Ru and An Ho, L. J. Wender Gallery, New York, NY. 1999 One-person show, Inspired by Song, China 2000 Fine Art, New York, NY. 2002 Oglethorpe University Museum of Art, Atlanta, Georgia—Dream of the Red Chamber Exhibition with Hank Lautz. Visiting Artist, Maryland Institute College of Art. 2001 Elected to Advisory Committee, Chinese cultural Association. Article by An Ho, World Journal, September 6, 2002. 2003 Visiting Instructor, Maryland Institute College of Art.
© 2003 Copyright for China 2000 Fine Art