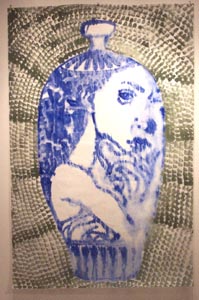 CHINA 2000 FINE ART (5 East 57th Street in Manhattan) takes great pleasure in presenting an exhibition of paintings by Hua Lee entitled The Human Visage. Lee's large face-formed vases in acrylic on lutrado, 72 x 40 inches, are part of a series he created in 1999—2000 and exhibited at the Liu Haisu Museum in Shanghai. This group of work is highly sensual and characteristically unique, yet maintains a meaningful integrity with Lee's Chinese cultural inheritance.
Hua Lee was born in 1956 in Shanghai and educated at the Shanghai Academy of Fine Arts and at Shanghai Teachers University where he received a B.A. in Fine Arts. He received his M.A. in Studio Arts from New York University in 1987. Since then, Lee has taught at the City University of Hong Kong, Hong Kong University, the University of Alaska Fairbanks, the National Academy School of Fine Arts, Marymount Manhattan College and the Art Students League of New York. He has lectured and held workshops in Asia and in the United States including those at the Indianapolis Art Center, the Asia Society, the American Museum of Natural History, and St. Paul's School. In addition, he has participated in numerous solo and group exhibitions in both Asia and the United States, has been given several major commissions, and has his work included in prestigious public and private collections in thirty-five countries.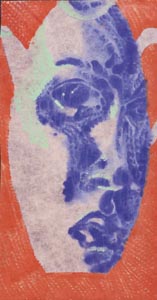 Decorating pottery with human or animal images started in the Neolithic Age. In our world, the people and animals are three dimensional, differing from the world of painting on pottery where the images are two-dimensional. The artist uses this dimensional dichotomy to his advantage by creating images that flow in and out of these different dimensional worlds. An image that appears on the exterior of a pottery jar could also be understood as part of the medium of the jar itself or as within the jar looking out. As the ancient jars were often containers for mystical or spiritual content, this confusion of worlds seems natural. Hua Lee uses this flow of dimensions to paint enormous canvases of face-formed vases, worlds in which the universe takes on a human visage and where the ego looks out from penetrating eyes. His titles, Qing Hua, refer to ancient Chinese blue and white porcelain, invoking Keats' eternality of art on an ancient urn and the depth of a human expression.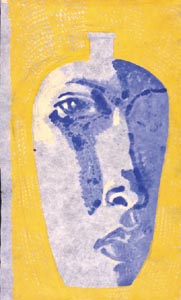 Artist's Statement: I was once at a party where a respected scholar held a lidded jar in his hand and said that he finally realized that he was in a jar all these years. He then removed the lid and threw it into the air, proudly stating, "Today I am out of the jar!" My own thoughts went one step further as I looked at him looking at us. He may indeed be out of that jar, but he is in another one, a larger jar. The process of growing up is the experience of emerging from a small jar and entering into a larger one, endlessly repeating until the end of life. My work centers on that idea. Lutrador appears to be paper, but it is not rice paper. Images in paintings may look similar to things in reality, but they differ because once an image has been created, it becomes something independent.
© 2004 Copyright for China 2000 Fine Art