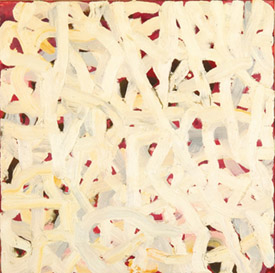 CHINA 2000 FINE ART (5 East 57th Street in Manhattan) takes the greatest pleasure in presenting LOST TOUCH, an exhibition of recent paintings by Arlan Huang. Huang's recurrent theme is ambiguity and the search for something elusive and ephemeral. For him, creativity entails motion and transition, growing in maturity and seeking a path towards artistry and beauty. In this exhibition of paintings in oil on cotton painted during the past two years, Huang's paintings have evolved into ribbons of color, braided haphazardly, playful and light and dense. The textured works fill up the canvas, like a state of being or mind. Huang's line is like a melody following an internal logic and intuitive meter. The broad strokes and imperfect arcs skate across the surface, falling in and out of time. There is turmoil and energy here but paradoxically the works seem tranquil and meditative. Like music, but silent, or life's stories, and then their absence. The paintings hold these poles together for a minute and then let go, the still center of a turning world.
Arlan Huang was born in Bangor, Maine and raised in San Francisco. He currently resides in New York City. A painter and sculptor, his labor-intensive handwork compliments his seemingly simple and elegant forms. Arlan's installation, "Dim Sum-Heart's Desire," for the Museum of Chinese in the Americas was a critically acclaimed mixed media project approximating his grandparent's New York Chinatown tenement. His glass inventions represent a family history passed down from generation to generation. The first 100 glass stones were numbered and imbued with a story or reminder of the relationship between Arlan and his grandfather. While light giving, translucent, fragile and breakable, they were also heavy as lead – representing a burden as well as a legacy.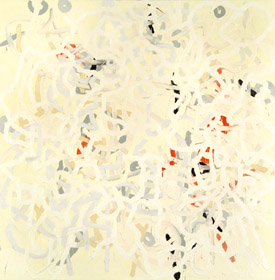 Huang has designed public works of art for the National Endowment for the Arts and has created permanent glass sculptures for the New York City Percent for the Arts Program and the New York Dormitory Authority. For the New York City Board of Education, he created "American Origins," a glass wall installation addressing the issue of immigration and migration as reflected in the New York public school system. For Urban Glass, he created "Aquellos Ojos Verdes – for Olga," a steel and wood framed blown glass in glass block partition. For Baron Capital, a New York brokerage firm, he worked with Genseler and Associates on an undulating glass block wall. Huang's project for the Borough of Manhattan Community College will be installed in the future, interrupted by the 9/11 tragedy. Currently, he is working on glass and steel commissions for Jacobi Hospital in the Bronx and Laguna Honda Hospital for the San Francisco Arts Commission.
Huang began spinning large rondels with John Brekke for their collaboration, "Leopard and Tiger Return to the Mountain." His disc carvings are a continuing contemplation on "Leopard and Tiger," a movement practiced in Tai Chi. They are painterly on first viewing. Upon closer study, they reveal an intricate linear pattern alluding to a subtext on transcending boundaries.
His "Jade Mountain D-Tour" series is a modern interpretation of Chinese jade, stone and glass carving. Wrapped in layers of color, the series pays homage to the time forgotten artisans who honed and perfected the art of Jade Mountain carving through a thousand years of handwork. The series is added to Huang's goal of 10,000 smooth stones in blown glass. Each is sequentially numbered to mark the passage of time and encoded as a life commitment to art as a story unfolding.
Recently, Huang returned to his first love—painting—and has been enjoying the luxury of moving oil paint and being "in" the painting in solitude. Painting provides a counterpoint to his glass blowing activities that are a social, team-oriented process. Each medium provides a fresh outlook for the other. Each medium nurtures the other in its seemingly opposite approach.
© 2004 Copyright for China 2000 Fine Art

back to On Exhibit