The Shanghai Painting Academy also sponsored artists on trips to factories and fields to paint the workers as they were performing their tasks. Joining together with other artists such as Xie Zhiguang, Cheng Shifa, Tang Yun, Qian Shoutie, and He Tianjian, Zhu established a sense of solidarity with the masses. Zhu, like others, walked an extremely tight rope to avoid being criticized, because criticism meant dismissal from their positions at the Art Academy. Nevertheless, Zhu Qizhan was very enthusiastic about this new movement in art that he believed would inspire a modern method and would breathe fresh vitality into traditional painting. He hoped that an invigorated Chinese painting style would evolve under the influence of "plein air" sketching, because he was convinced that Chinese painting must continue to evolve. Zhu had little trouble balancing his reliance on traditional painting techniques and his knowledge of Western artists and their techniques. Complementing a life deeply influenced by traditional values with thoughts that remained current and ideas that were ahead of his time, his own requirements for painting were always changing.
After years of establishing himself as an artist with a unique style, fulfilling individual goals and his own artistic proclivity, Zhu found himself as part of a team, using his skills to paint New China as a piece of a larger project. Zhu left Shanghai many times to paint the lives of the people and to find ways of improving his paintings. Dating from this period and continuing throughout his career, he garnered inspiration from all things in his surroundings, from reading the news to watching television to eating a plate of crabs. He would keep trying and adjusting new combinations to test out subjects or materials until he got a result that was successful and right for him. He once said to his son, "Painting is difficult; painting something good is even more difficult. Painting is all about using your own style, and selecting the good advice of others. Pick out a road, and travel it all the way." Zhu's own style of painting, his early foundation in the techniques of Chinese brush painting together with his knowledge of the techniques and ideas of western painting, was perfectly suited to the new movement in art.
Thus it was that Zhu Qizhan created a great revolution in modern painting. He did not set out to do this; he was not the sort of man who starts the ball rolling. Yet, it was within him that the process of reform reached successful maturity. Zhu was the culmination of the exploration, beginning with Wu Changshuo and continuing through Qi Baishi, to paint with radiance and brilliance, to invigorate and transform Chinese painting. Indeed, Zhu did form friendships with the most important artists of the 20th century, with Huang Binhong, Qi Baishi, Pan Tianshou, Xu Beihong, Qian Shoutie, Xie Zhiguang, Xie Zhiliu, Lu Yanshao, and a particularly treasured friendship with Tang Yun. Handsome, with his white beard, smooth skin (a sign of long life to the Chinese) and twinkling eyes, Zhu's magnetism was immediate, his warmth genuine, and his integrity greatly admired. At his painting table he was Zhu Lao, Grand Master, painting with deliberate and measured strokes, filling the paper with ink and color in perfect balance, his brush eloquent and unafraid. He did not seek to impress anyone with his work, but all who spent time with him left his studio in awe of some intrinsic power that he held quietly within.
Historically, the community of artists and intellectuals in Shanghai was always a strong one. Before the Cultural Revolution, there was a "Culture Club" in Shanghai. During every weekend, all the artists of the "Culture Club" would kneel together to cooperate on a massive painting. Zhu attended this exercise regularly. His main reason was to observe people and their paintings and their painting styles. Thus he could compare his paintings with the paintings of other artists, for no matter how great his age, he felt the need to keep pace with the times. Certainly, Zhu's old age landscape painting marked the maturity of the painting reform.
In commemoration of the fifth anniversary of the death of Zhu Qizhan, the Shanghai City Government, the Shanghai Museum of Art, the Zhu Qizhan Museum, and the Zhu family went to considerable effort to arrange a two-week exhibition at the Zhu Qizhan Museum of Art, which opened with a large celebration and banquet on April 22nd, 2001. The paintings in the exhibition were published by the Shanghai Museum of Art in a book entitled Treasured Collection of Zhu Qizhan's Paintings with an introduction by Cheng Shifa. The exhibition was unique for China in that the Museum cooperated with international collectors to gather a group of paintings that would celebrate the range and depth of the work of this great artist. Also, for the first time, Zhu Qizhan's collection of sixty seals carved for him by Qi Baishi on stones that he selected was exhibited publicly.
So Clear and So Cool introduces fifteen works spanning the years from 1937 to 1992, painted by Zhu Qizhan from the age of forty-six to the age of one hundred and one. Master Zhu's long career as an artist was characterized by the art of simplification and reduction in the detail as a means of clarifying reality, saying a great deal with a minimum use of brush. He painted with a radiance and brilliance that invigorated and transformed all his subject matter. Despite his quiet and kind manner, Zhu created a great revolution in modern Chinese painting. His fertile and ineffable imagination bridged East and West, past and present, and connoisseur and creator. Throughout his life, he stimulated interest in art among artists and encouraged continual challenge and development in the artistic tradition in order to ensure the continuing vitality of Chinese painting for the future.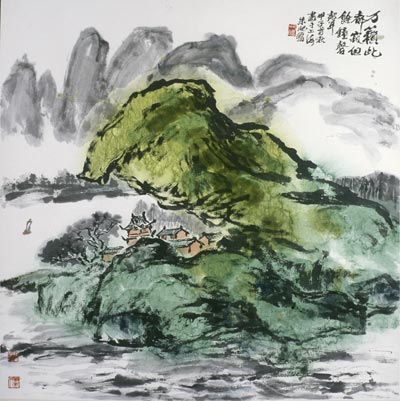 6. Summer Landscape. Hanging scroll. Ink and color on paper. 27 x 27 in. Signed Zhu Qizhan. Dated: Summer 1984. Translation: The sound of the clock's gong in pure silence. Painted in Shanghai at the beginning of autumn 1984. $22,500.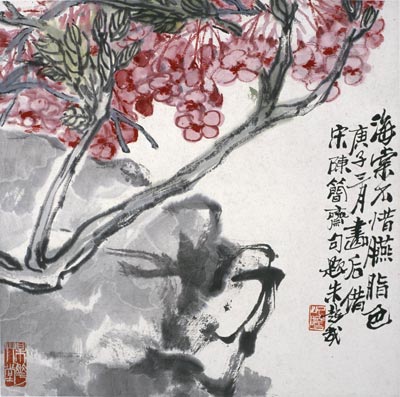 7. Crab Apple Blossoms. Framed. Ink and color on paper.
13 ˝ x 13 ˝ in. Signed Zhu Qizhai. Dated: 1960. Translation: Chinese crab apples proudly show their red color Painted in March of 1960. Borrowing a phrase from Chen Jianzheng of the Song dynasty. $6,500.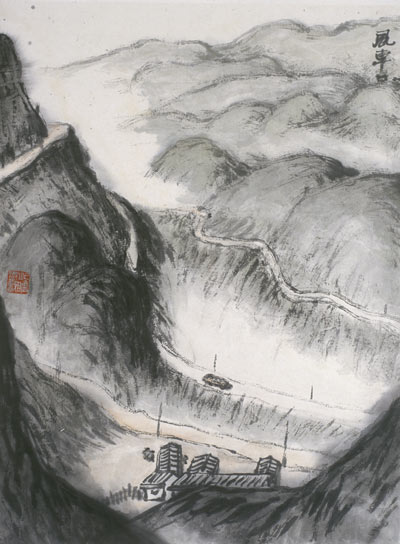 8. Mountain Gap Road. Framed. Ink and color on paper.
15 x 11 1/8 in. $6,500.