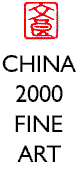 back to
On Exhibit

back to On Exhibit

Shao Yixuan was born in eastern Zhejiang province in 1886, into a family of intellectuals where painting was somewhat of a tradition. His cousin, Shao Piaoping, a famous journalist who participated in the founding of Chinese communism, was a calligrapher in Beijing. His sister, Shao Yiping, was a painter. Later, his son, Shao Shaoyi, studied Chinese painting with Qi Baishi (1863-1957) and his daughter, Shao Youxuan, studied with Zhang Daqian (1889-1983). Shao, himself, studied Chinese painting with the artist, Zhang Shuqi, who later became a professor at National Central University in the wartime capital of Chongqing. Although not widely known today, in the first half of the 20th century, Shao was recognized as one of the most important and influential artists of his time. He taught painting at the National Academy of Art in Beijing from its inception until sometime in the 1930s. While he was teaching there, Xu Beihong (1895-1953) was the Dean of the School. Shao was a close friend to his contemporaries, Qi Baishi (1864-1957), Huang Binhong (1865-1955), Chen Banding (1876-1970), Wang Mengbai (1888-1934), Pu Ru (1896-1963), Xiao Sun (1883-1944), Yu Shaosong (1882-1949), Yu Feian (1889-1959), and Chang Dai-chien (1899-1983). This group of brilliant artists surrounding Shao, a kind of Beijing painting salon, shared intellectual and artistic pursuits and collaborated on paintings. The high quality of the cooperative paintings they created reflects the compatibility of their intellect, talent and the spirit of fraternity.

Catalog # 17. Sparrow, Bamboo and Rock, 1934.
With Qi Baishi and Wen Yuan. Ink and color on paper.
37 1/2 x 23 1/4 in.
The art of Shao Yixuan can be characterized under the heading of literati painting, adhering to a stylistic branch that follows the individualists of the late Ming and early Qing dynasties. Those artists declared the right to individual expression and the necessity to carefully study nature, of which the painter himself forms a part. Shitao (1641 – c.1720), who took actual scenery, such as that of his beloved Mt. Huang, as subject of his paintings, is the most renowned proponent of this style, and his painting profoundly affected Shao. Additionally, the Shanghai school of painting penetrated into conservative Beijing, and Shao incorporated elements from the Shanghai style that exhibited free and spirited brushwork, emphasizing calligraphic abstraction.
Catalog #10. God of Longevity, 1934. Ink on paper. 36 1/2 x 11 in.

Catalog #21. Owl. Ink and color on paper.
41 x 13 in.

Catalog #26. Abundance of Gourds. Ink and color on paper.
65 1/2 x 27 1/4 in.
We have written in previous catalogues about Shao's facility, matched by only a handful of artists of the past few hundred years, in painting a broad diversity of subjects in a range of sizes and experimenting with paper of varying absorbencies. We have seen Shao's cultivated taste and elegance evidenced by a minimal use of his own calligraphy, preferring to allow others, whom he considered more erudite, add poetry or personal comments to his painting. In his paintings, it is clear that Shao's seriousness is tempered by a playful interaction with so many twentieth century masters as they painted together. Such collaborative works too often seem forced or disjointed, but there is something quite extraordinary in the finished collaborative works of Shao and his friends. They painted together much the way virtuoso musicians synchronize and bond in a chamber ensemble, the difference being that a tangible result of their endeavor lingers for us today. This exhibition particularly emphasizes Shao's special bond to Qi Baishi (1864-1957). Some of Qi's most brilliant and beautiful painting and calligraphy were created with Shao Yixuan.
Over three years, we have exhibited sixty-four of Shao Yixuan's paintings. There are twenty-six paintings in our current exhibit. Our original intention was to see the collection passed on to a single collector or museum. Though it would have been gratifying to keep the collection intact, it has been even more pleasurable to spread Shao's legacy by sharing the works with many collectors. It took us fifteen years to assemble this collection, to translate colophons, to remount and photograph the works, and to prepare our catalogues. We hope that the contribution we have made by exhibiting Shao Yixuan's painting stimulates others to probe for further information about the artist and his peers. So much knowledge, which would have provided valuable insights into Chinese art, has been scattered about due to decades of unrest and revolution. We anticipate that our efforts will serve as a catalyst for the rediscovery of other forgotten masters like Shao Yixuan, and for the prospect of their finding their rightful places in the annals of Chinese art, where they can be appreciated once again.